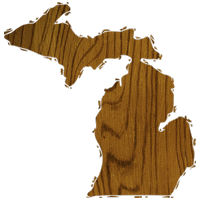 Every person who enters your yard is a Michigan Resident. We do not use transient or migratory employees.
Our wood comes from four different Michigan companies. You can even select wood from our Alpena distributor, which would make everything completely Michigan-based.

Our aluminum is fabricated in Chesterfield Twp, MI and comes with a Lifetime Guarantee that can be backed up by a two-generation family business.

Our PVC comes from four different Michigan distributors. All four distributors sell only American-made products.

Our steel products are American-made in Oklahoma, not China, and are distributed by a third-generation company in Drayton Plains, Michigan.

Our cement is made in Gibraltor, Michigan. We use only a high-strength Hydraulic product that is the highest-rated in the industry. After all, the cement is what holds it all together.

Our chain link is domestically fabricated. It doesn't rust like imports, and is guaranteed to you in writing by American companies.
We have added to this Commitment by offering a three-year warranty. Most companies only offer one year; we triple that because we feel we have the best installers and the best products.